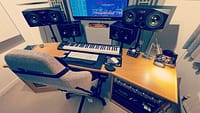 About Us
Music lessons based in Suffolk for a range of instruments and teaching styles.
Our friendly team of professional teachers can come to you. We are more than happy to travel around Bury St Edmunds and surrounding villages.
Online lessons also available.
Meet The Team
Eleanor
Eleanor teaches piano and music theory. She has fifteen years of teaching experience, in the classroom and one to one, and is currently studying for her PhD in Music Composition at the University of Aberdeen. She gained a first class degree in Music from the University of Edinburgh and a Master of Arts degree in Applied Psychology of Music at the University of Leeds. She offers a holistic approach to teaching and ensures that all lesson plans are tailored to her students' needs and goals.
Matthew
Matthew is an accomplished musician who regularly performs as a solo artist and as part of a band. Playing both piano and guitar from an early age his style has become eclectic and encompasses many different genres. His performances in Europe and around the UK include slots at the popular Isle of Wight Festival (with The Jellycats), 'The Eden Sessions' (supporting Blink 182) and a supporting role on a UK tour with Californian ska band Reel Big Fish (with The Jellycats). This experience has motivated Matthew to instil a love of music in others and lends itself brilliantly to teaching in an engaging and stimulating manner.
Ben
Ben teaches Music Technology and DJ lessons to those just starting out, to those who need help taking their music and/or DJing to the next step. He works with students individually to enhance their knowledge of electronic music production, mastering and/or DJ techniques using student-centered learning.
Joshua
Joshua gained a Degree in Professional Music Performance from the Academy Of Contemporary Music in Guildford, Surrey. During his time in Guildford, and since, he has played extensively to live audiences. His interests span many genres, taking his inspiration from jazz through to rock. His lessons focus on technique, tone and style, as well as improving improvisational skill and musicianship.
Jack
Jack is a skilful multi-instrumentalist with an eclectic taste in music and over twelve years of teaching experience, in schools and privately. He first started learning the guitar when he was ten years old and has gone on to become an accomplished drummer, banjo and ukulele player. As a busy performing rock musician, Jack frequently plays in venues across the UK and Europe. His life long passion for music is infectious and he hopes to instill this in his students.
Alexander
Alexander teaches Voice, Violin, Viola, Conducting and Composition. He has led musical workshops for the Royal Opera House, BBC SO Learning, Streetwise Opera, Future Opera and numerous schools and community music groups. His private tutoring has included students who have recently signed contracts starring in major West End musicals, sang in the Royal Wedding (Prince Harry and Meghan Markle), been awarded music scholarships to private schools, and successfully auditioned for top choirs and ensembles. Alexander teaches from his studio in Halesworth, Suffolk.
Woodwind
We are very pleased to offer Clarinet, Flute, Saxophone and Oboe lessons through our collaboration with The Woodwind Academy. The Head of School, Liam, joined us from London where he completed his Masters' Degree in Clarinet Performance at the Royal College of Music. He has been teaching for twelve years, in the UK and in Barcelona, in music schools and privately. An accomplished performer, Liam has enjoyed playing with orchestras, chamber ensembles and as a soloist in many venues across Europe. Contact us to find a woodwind tutor in your area.
Why Suffolk Music Teachers?
Testimonials
I enjoy the variety, from playing pieces, sight reading practice and theory. I also like playing duets with Eleanor and learning how to improvise.
Andy Smith
Since starting lessons in September 2015, I passed Grade 1 Piano with a Distinction in November 2015 and passed Grade 2 Music Theory with a Distinction in March 2016. I am now awaiting a date for my Grade 2 Piano in June 2016. My Piano playing has improved so much, I am much more confident and am slightly happier to play to other people!
Florence Pines
Eleanor is very patient and lets you try to play no matter how slowly or with however many mistakes. We then go back over and Eleanor explains what was good and what to look out for.
Mary Taber