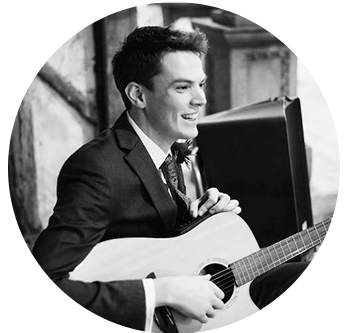 Acoustic and Electric Guitar
Matthew teaches pupils of all ages and abilities tailoring lessons to suit every student's needs.
Whether you are keen to work through grades or master your favourite songs he can help you to reach your goals by working at your own pace in carefully structured lessons. You will have the opportunity to develop your musical ear and learn through listening as well as reading music.
Bass Guitar
Joshua aims to address technical and stylistic aspects of the bass guitar whilst providing you with the theory and knowledge needed to become a well-rounded musician. He teaches all ages and abilities, whether you are looking to improve your technique, wanting to develop improvisational skills or you are just beginning to learn how to play.
Banjo and Ukulele
Jack teaches beginner banjo and ukulele lessons to children and adults. His patient manner will help you to gain confidence and accomplish your musical goals. The ukulele is the perfect transition instrument for children wanting to learn how to play the guitar. As it is smaller, it allows children to start learning basic strumming patterns and their favourite melodies when their hands are still small. When their hands are bigger they will already have the knowledge to pick up the guitar and start playing previously learnt chords and melodies straight away.